Watch Victoria Beckham and James Corden belt out Spice Up Your Life
by Maria Katsiou • Friday 31 March 2017 •
Watch Victoria Beckham and James Corden belt out Spice Up Your Life
The duo appeared in a hilarious trailer for a Mannequin reboot.
Victoria Beckham and James Corden have belted out Spice Girls hit Spice Up Your Life as they incorporated a Carpool Karaoke into a spoof movie trailer.
The singer-turned-fashion-designer hopped into the passenger seat of James's car for a singalong as they unveiled a fake trailer for a remake of the movie Mannequin.
Both stars are huge fans of the 1987 film, which starred Andrew McCarthy and Kim Cattrall, and James joked they had been chosen to star in a reboot.
In the segment on James's US talk show The Late Late Show, Victoria took on the role played by Kim, portraying a mannequin that comes to life, but only James's character can see her.
The footage shows bystanders looking on in concern as James runs around Los Angeles with a plastic figure while the narrator says: "The world couldn't understand their love, like, really couldn't understand their love … No seriously, they didn't get it."
When someone refers to the mannequin as "just a dummy", James replies: "Do not speak to her that way, she taught me how to love."
The pair embark on a singalong as James takes his beloved mannequin to be reunited with others like her in the window of chain store Target, where Victoria will soon launch a fashion collection.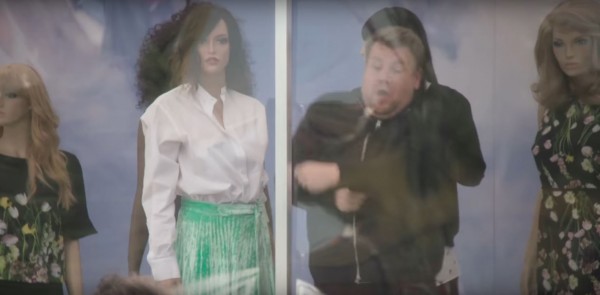 They sing and dance to the Spice Girls hit, but when another motorist pulls up alongside them, he sees James dancing alone next to an inanimate object.
Dressed in a white shirt and pleated green skirt, the former Spice Girl teased the Carpool Karaoke aspect of the joke trailer earlier this week when she posted a video on social media showing her sitting in the passenger seat of a car fitted with cameras.